Fiddler's Green Stud


Offers for Sale

Born April 20, 2003

"ANYTIME II"

Filly by Voltaire out of Ranee G by Galoubet


Born May 10, 2003
"AMELIE"
Filly by Olympic Concorde out of Abdullah/Galoubet mare


Born May 22, 2003
"ARCHANGEL"
Colt by Voltaire out of Abdullah/Good Twist mare


Imported from Holland
"ULTRA VIOLET"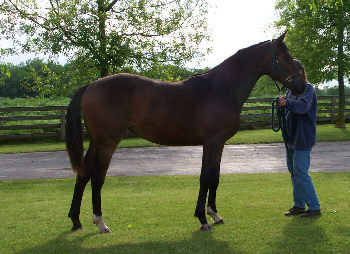 2001 Dutch filly by Burggraaf / Nimmerdor / Voltaire
Born April 6, 2001

Foal's Pedigree.....Click here
Sire Information-BURGGRAAF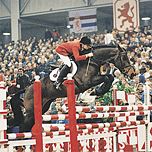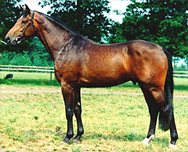 Burggraaf is a product of the successful Holsteiner formula Landgraf I x Cor de la Bryere. Landgraf I produced over 50 approved stallions and over 70 state premium mares just in Germany and heads the German yearbook with the total winnings of his progeny.


The dam's sire is the famous sporthorse producer Cor de la Bryere, who holds second place in the German yearbook with total winnings, and this line has produced over 50 approved stallions and state premium mares.



Burggraaf was very successful in the heavier classes of the National Stallion Competition, of which he won the finals and six of the seven rounds.


Later he was an international showjumper with Roelof Bril; they cleared the 2.10m during the puissance of Indoor Brabant in 1991 and in 1993 they were reserve champion of the 1.40m class for KWPN stallions.


Burggraaf heads the Dutch showjumping index.


He has sired several showjumpers including s'Blieft ridden by Leslie-Burr Lenehan.


Burggraaf also produces offspring with a lot of movement.



Dam's Sire Information-NIMMERDOR

Great Grandsire Information-VOLTAIRE

Voltaire is the result of crossing two outstanding bloodlines- Furioso II and Gotthard.
Furioso II produced 200 state premium mares and at least 70 approved stallions.
The full brother of Furioso II is the French stallion, Mexico. His son, Le Mexico is a familiar name in Dutch breeding and frequently appears in the pedigrees of successful showjumpers.
The dam's sire, Gotthard, is a legend in German sporthorse breeding, and his name is synonymous for the Hannoverian showjumper.

As an 8 year old, Voltaire jumped 1.50 meter courses with a great deal of success. He showed his strength in international jumping in 1988 in Calgary, Stockholm, Lanaken, Helsinki, Wiesbaden and Wembley and in 1989 he brought his showjumping career to a successful ending by winning the Grand Prix of Berlin with Jos Lansink and 2nd in the Grand Prix of Leeuwarden.


Voltaire was the sire with the most offspring (4) at the Olympic Games of Atlanta in 1996.


Voltaire was ranked 2nd in 1999 on the World Breeding Ranking of Showjumping Sires (he was second to Polydor).


Voltaire has over 30 approved sons in Europe.


Many of Voltaire's offspring jump at Grand Prix level, such as Finesse, Altaire, Kahlua, Play it Again, Helios, Electro, Danta, Especial.




"ARMAGEDDON"
Anglo-Trakehner filly by Abdullah out of Star News by Good Twist
Grey, will mature to 17 hands
Born May 5, 1998
Photo taken at 22 mos. of age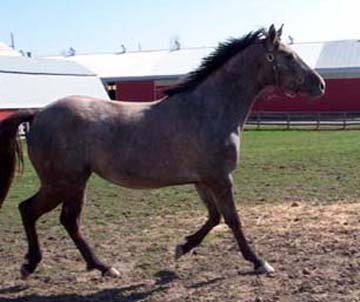 Pedigree.....Click here
Armageddon's sire, Abdullah, is THE most famous Trakehner in North America.
Some of his accomplishments include:
Individual Silver Medalist-Show Jumping-1984 Olympics in Los Angeles, CA.
Team Gold-Show Jumping-1984 Olympics in Los Angeles, CA.
Winner of 2 World Cup Finals in Aachen, West Germany and 2 Nations Cups.
Winner of several prestigious Grand Prix Jumping Competitions both in North America and abroad.
Abdullah is also the leading sire of hunters in North America.
Abdullah is the sire of Airborne Monticello, Show Jumping Bronze Medalist in the 1995 Pan-American Games.
Abdullah qualified up through 3rd level Dressage.

Through Abdullah, Armageddon possesses the blood of Donauwind and Abiza, renowned in the Trakehner ranks for producing top jumper prospects.

VERY IMPORTANT BOTTOM LINE-Armageddon's 3rd dam is the dam of Jet Run, ridden by Michael Matz, and winning 2 individual gold medals in the Pan-Am Games team and individual bronze medals in the World Jumper Championships, and a victory in the 1981 FEI World Cup Final


Armageddon's dam, Star News, is by Good Twist, sire of Gem Twist, who won two silver medals at the '88 Olympics, three AGA Horse of the Year titles, Team Silver at the '87 Pan-Am Games, multiple Nations Cup team victories, and more than 25 major grand prix victories.




Armageddon is definitely bred to jump, but suitable as a dressage or eventing prospect


Imported from Holland
"TOULOUSE LAUTREC"
KWPN colt
by Quattro out of Lakilly by Ramiro
Chestnut, will mature to 17 hands
Born July 17, 2000
Photo taken at 11 months of age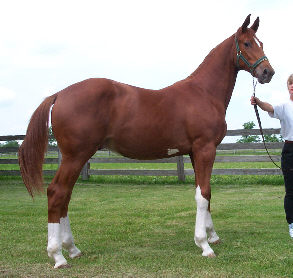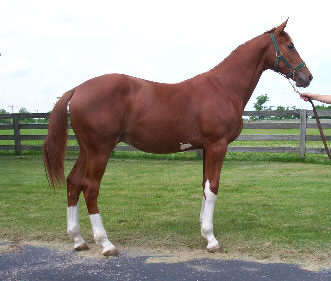 Pedigree.....Click here
This colt has SPECTACULAR movement, EXCELLENT visual appeal and a pedigree to perform.
Sire Information-QUATTRO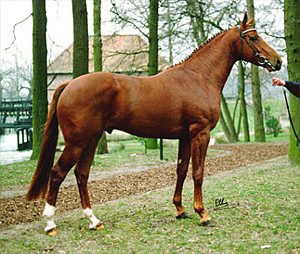 Quattro is a son of the Selle Francais stallion, Qredo do Paulstra, winner of the Grand Prix of Bordeaux. Qredo is sired by the legendary Galoubet, who won the World Cup qualifiers twice and produced international jumpers all over the world, most recently Baloubet du Rouet, World Cup Champion three years in a row and Team Bronze medalist for Brazil under Rodrigo Pessoa.


Quattro's 3rd sire, Alme produced offspring such as Jalisco, and I Love You.


About a dozen national and international jumpers have the same motherline as Quattro, of which O'Prince and Si Prince are the most famous. In the third generation, we find the famous bloodlines of Uriel and Enfant Terrible xx.


Quattro himself was 2nd in the Performance Test at Medingen with a high score of 130 points. In 1994 he was the Reserve Champion of the Oldenburg Korung, based on his performance test and his first offspring.


Quattro jumped very well in 1996 with his rider Gilbert Bockmann and they won more than 20 1.30 courses. Meanwhile, he continues to jump at the international circuit successfully, including 2nd in the Grand Prix of Emsburen, Kiel and Bremen. He was also successful in Caen, Leeuwarden, Berlin, Munich and Geneva.



Also about Toulouse Lautrec

This colt has a very strong bottom line also. His 3rd dam owns Keur, Pref, Prest and Sport predicates.


His 4th dam was on the Olympic Team-Jumping for Holland.




Contact us for more details!
You are visitor

Copyright 2000, by Fiddler's Green Stud